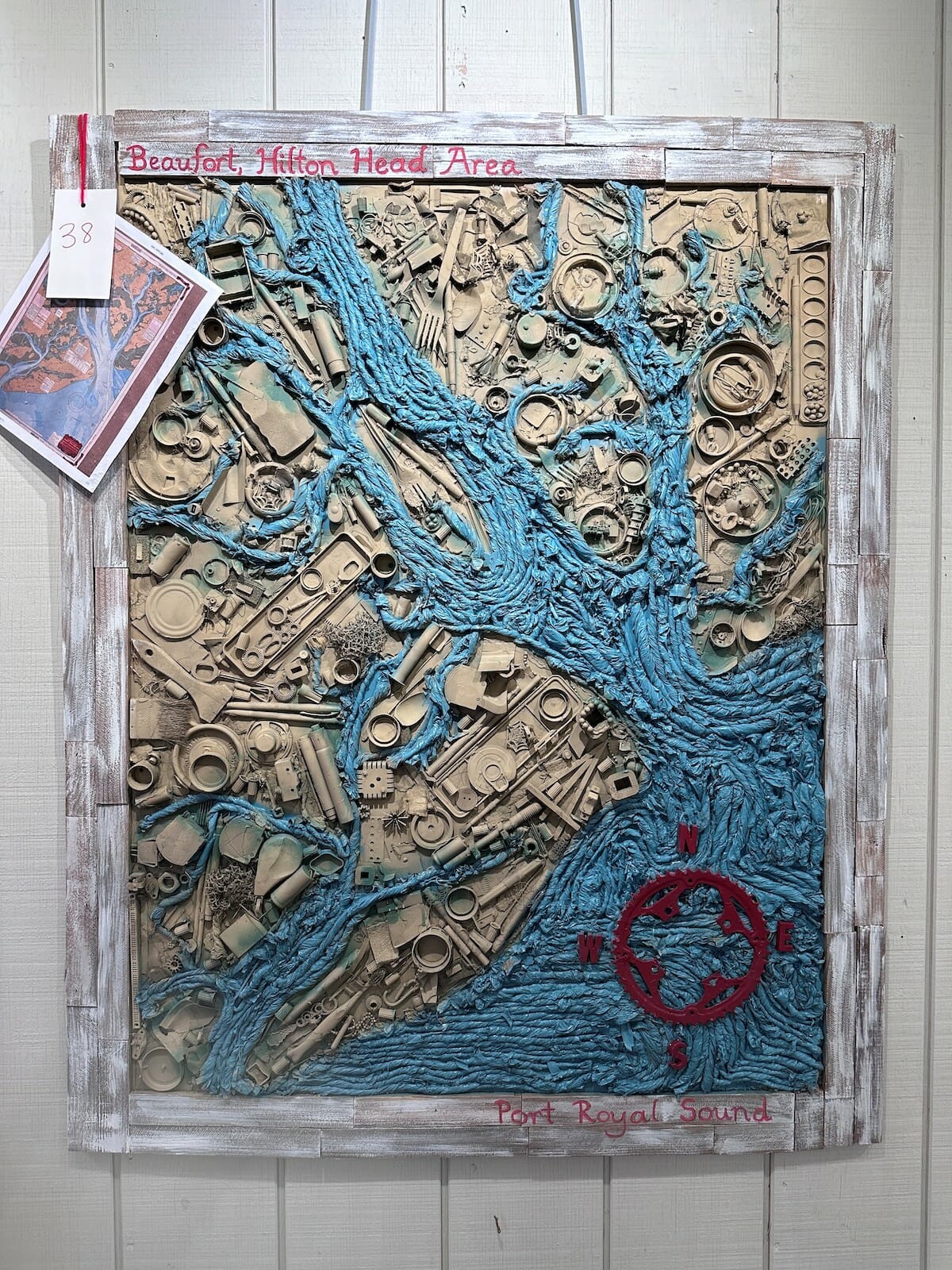 PRSF announces Recycled Art Contest winners, prizes 
Fifth annual event brings awareness to importance of clean, healthy waterways 
From staff reports 
OKATIE – Dozens of talented artists and budding environmentalists were recognized for artwork representing aspects related to the Port Royal Sound on Monday, Nov. 14.
The 5th annual Recycled Art Contest was created to help remind the community how important it is to reduce, reuse or recycle waste materials as it supports PRSF's mission to keep the water and land of the Port Royal Sound area clean and healthy.
This years' winners by category were:
Best School Entry: Battery Creek High School, Patsy Stowe
Best Group Entry: Rod and Ty Newsome
Best Individual Entry: Pamela Glover
Best Youth Individual Entry: Amelia Matis (age 10)
Best Use of Recycled Materials: Hilton Head Island Middle School, Andrea Norman
PRSF Award – Best Represents the Port Royal Sound: Hilton Head Island Elementary School Artistically Gifted & Talented students, Helen Ashton
Best in Show: Calvary Day School, Christine Powell
Honorable mentions were:
Drew Cunningham (Individual)
Michael Church (Individual)
Stacey Schultz, Sea Island Sips (Individual)
Fine Arts at the Citadel, Tiffany Silverman (School)
Robin Davidson (Individual)
Open to individuals, clubs, schools, families and businesses, the winning Sound-related artwork was made almost entirely of recycled materials and/or trash. Award recipients received $300, with a grand prize of $500 for the Best in Show. Judges for the contest included Sharon Stewart, PRSF volunteers, and the Arts Industry Director from the South Carolina Arts Commission. More than $2,000 in prize money was provided by the SC Arts Commission, supported by the National Endowment for the Arts.
"I admired how each participant thoughtfully used the recycled materials to tell the story of the importance of the environment," said La Ruchala Murphy, a contest judge and member of the SC Arts Commission. "The works were creative, thought-provoking and well crafted. Each unique in their own way, the works presented an integration of art, nature and community."
All art entries will remain on display at the Sharon and Dick Stewart Maritime Center, located at 310 Okatie Highway, through Jan. 1, 2023, and can be found on PRSF's Facebook page. Winning entries will stay throughout the month of January 2023.
To learn more about the Port Royal Sound Foundation and the Maritime Center featuring Beaufort County's only aquarium, visit PortRoyalSoundFoundation.org or call 843-645-7774.